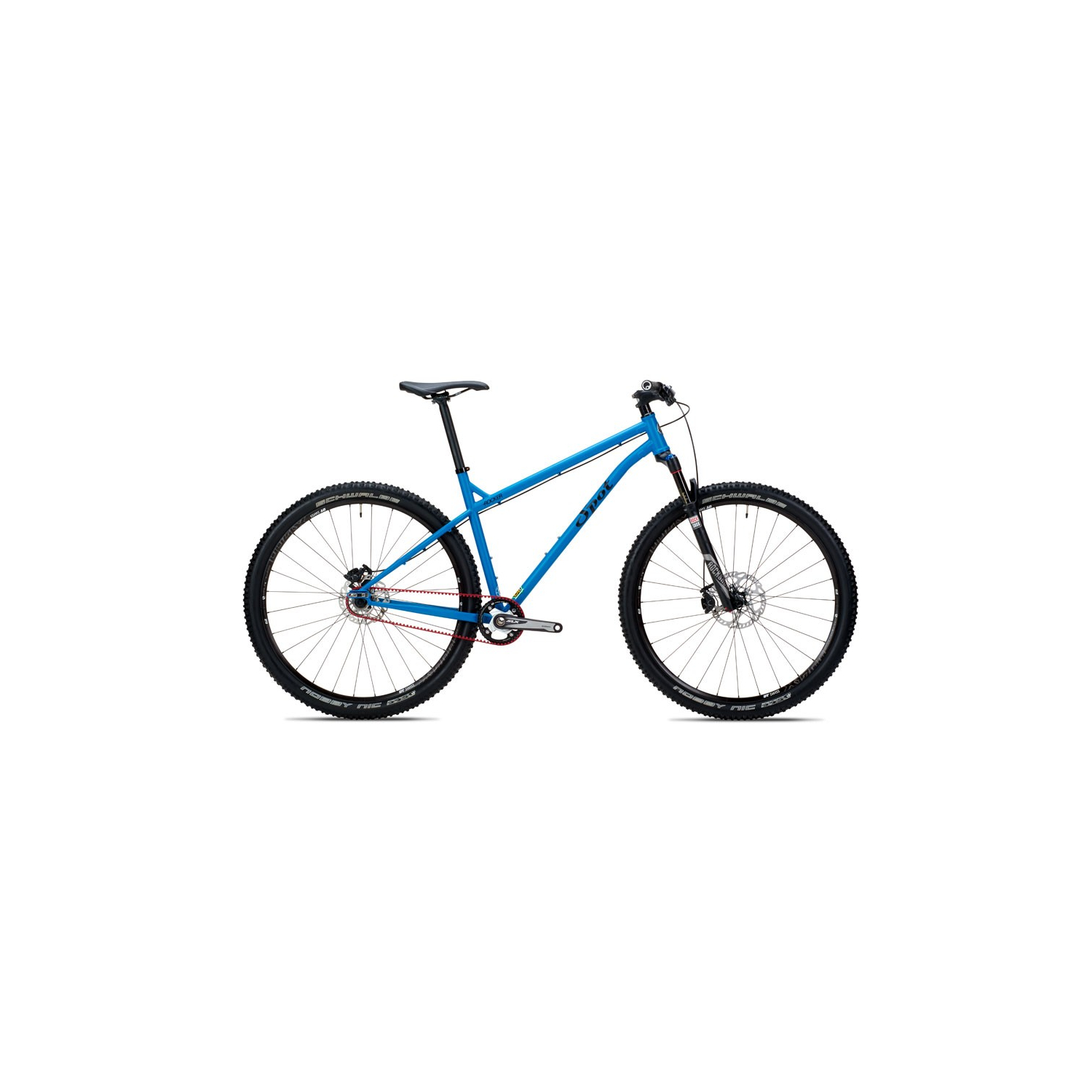  
Spot Brand Rocker 27,5"- 29" Single speed MTB - Playful steel
Inkl. moms
Delivery: 3 to 6 weeks
Rocker SS MTB 
Spot Brand practically invented hardtail singlespeeding. And here is the bike from Spot Brand that makes it even more fun. SS MTB is a rewarding experience: you, the trail, one gear, no excuses. The Rocker SS embodies that ethic and raises the bar. With Reynolds steel tubing!
Expected delivery 1-3 weeks.
Contact us for gear options.
Rocker SS 29 Features
Spot Brand writes:
"We sub out the chain for a super-strong red-hot carbon fiber belt that won't stretch, never needs lube and requires only a wash with the garden hose after dirty rides. Just grab your bike and go. The Reynolds 853 steel frame in Laguna Seca Blue is fun to ride and uber versatile--add a derailleur for geared racing and you've got a quiver bike of one. We conceived the Rocker SS 29 to embody the perfect mix of race-ready speed and enduro rowdiness. Hence the wide 2.35-inch Nobby Nics and durable DT Swiss rims for confident footing on rocks and roots, the wide-diameter seat post designed for more dropper compatibility, and the ISCG tabs for bash guards. Yeah, we practically invented the category but we never stop innovating and redefining it."
Reynolds 853 DZB Tubing:
Seamless Air-Hardening Heat-Treated Steel with Double Butted Zones. The benefits of air-hardening steels are particularly noticeable in the weld area where, unlike conventional steel alloys, strength can actually increase after cooling in air immediately after welding. 853 is heat-treated to give high strength and damage resistance, and the steel properties allow thin walls to be used, so that lower weight but fatigue-resistant structures can be made. The chemistry includes carbon, manganese, chrome, molybdenum, silicon, copper. The interaction between the alloys result in a fine grain structure that forms with air-cooling without the traditional "quenching" (fast cooling in water or oil) process. High strength from bainitic phase steel after a series of cold-working operations. Heat-treatment to the 853 specification raises the yield strength for the entire tube, increasing dent and impact resistance.
Gates CenterTrack:
Next generation Carbon Drive System. Unique, super-strong, carbon-reinforced polyurethane system that requires no lube and provides a nearly silent ride. CenterTrack is stronger, lighter, more compact, and better at shedding debris than the prior Gates systems.
Dropout Modularity:
Patented Kobe 2 Slider Dropouts allow belt-driven or chain-driven or geared configurations
Boost 148 Rear Spacing:
New standard to allow better clearance for short seatstays and big tires, plus a better spoke bracing angle for stiffer wheels.
110 mm Front Spacing:
Better spoke bracing angle for a stiffer front wheel.
30.9 mm Seattube:
Larger diameter seattube than most steel frames allowing compatibility with more dropper posts available in the market.
Tapered Steerer and Headtube:
Stiff steering handling up front.

Produkt information
Ramme materiale

Reynolds 853 Steel

Gaffel

RockShox Reba RL Boost

Hjulstørrelse

27,5+" / 29"

Bremser

Shimano SLX

Gear

Single Speed

Drev

Gates CDX - Centertrack

Dropout

Spot Brand Kobe Slider

Tandfarve

RED
1 andre produkter i samme kategori: